CV WIRE is SUPER CONCAVE DISK design.
We prepared distinctive 3 colors variations, [SILVER POLISH],[SMOKE CLEAR],[GOLD CLEAR].
The center cap like center-lock, and the aluminum-valves, will produce the racing atmosphere.
The center cap is shipped with three colors, [SILVER CROSS HAIR LINE],[BLACK CROSS HAIR LINE],[RED CROSS HAIR LINE], so that you can select according to your preferences.
You are on the cutting edge in custom, with this wheel[sized 19x7.5J-20x10.0J].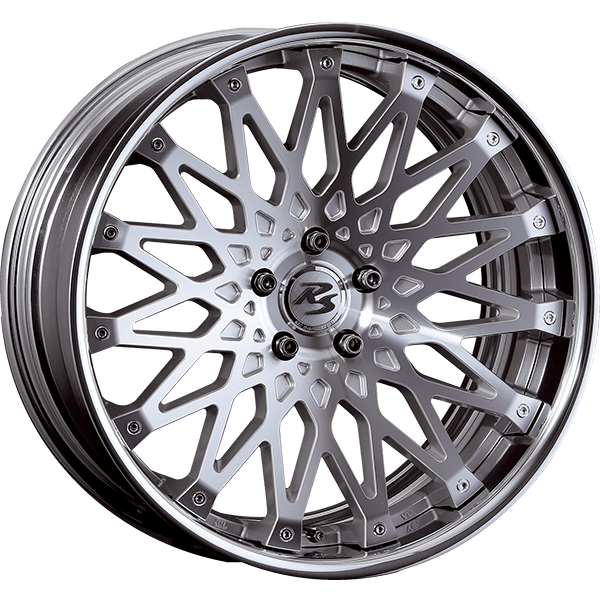 | | |
| --- | --- |
| Type | 2 ピース構造 |
| Size | 19 / 20 inch |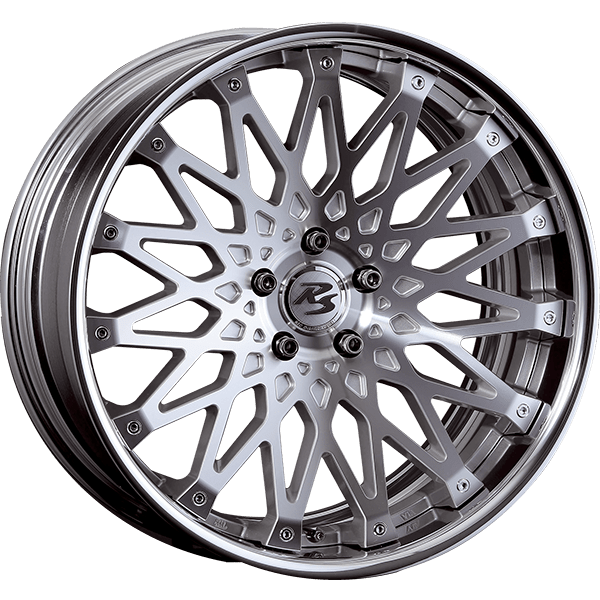 SILVER POLISH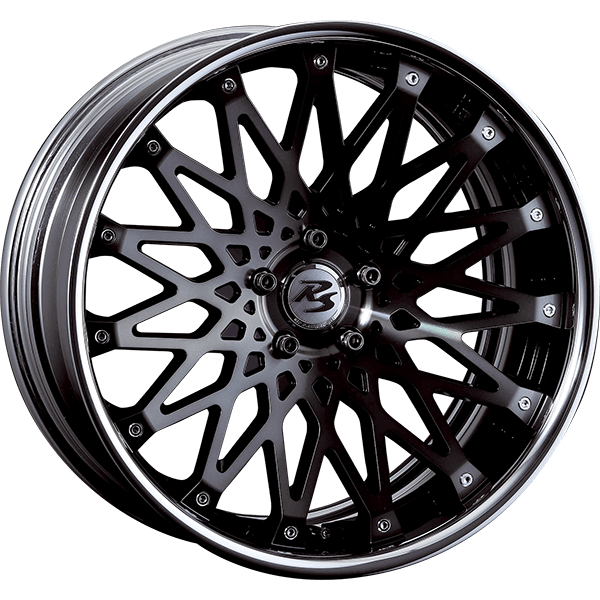 SMOKE CLEAR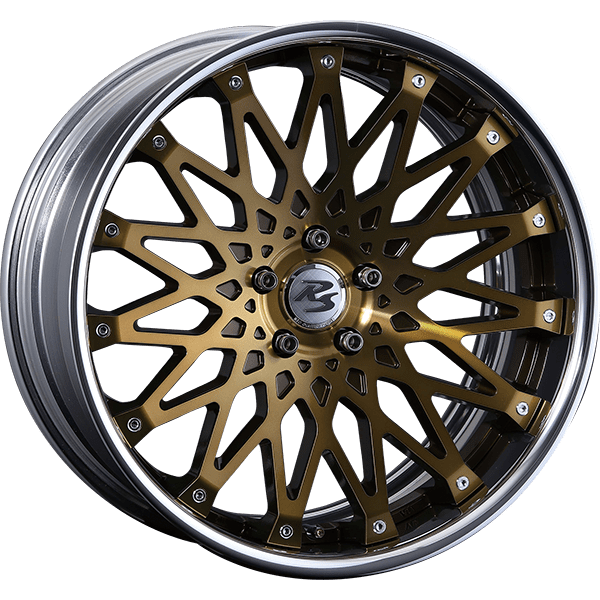 GOLD CLEAR
19 inch Super Low & Low & High Type Disk
Size
税込価格(税抜価格)
S-Low Disk Inset
(リム深度/mm)
Low Disk Inset
(リム深度/mm)
High Disk Inset
(リム深度/mm)
H-P.C.D.
19×7.5J
¥83,600(¥76,000)
50(47)〜26(71)
45(47)〜21(71)
27(47)〜3(71)
5-100
5-112
5-114.3
5-120
19×8.0J
¥85,800(¥78,000)
55(49)〜19(85)
51(48)〜14(85)
33(47)〜−4(85)
19×8.5J
¥88,000(¥80,000)
55(55)〜 13(97)
55(50)〜8(97)
40(47)〜−10(97)
19×9.0J
¥90,200(¥82,000)
55(61)〜6(110)
55(56)〜1(110)
45(48)〜−17(110)
19×9.5J
¥92,400(¥84,000)
55(68)〜0(123)
55(63)〜−5(123)
45(55)〜−23(123)
19×10.0J
¥94,600(¥86,000)
55(74)〜−6(135)
55(69)〜−11(135)
45(61)〜−29(135)
※リムの深さ50mm未満はリムからディスクが突出します。
19 inch Disk Type Data
| H-P.C.D. | S-Lo | Lo | Hi | Hub Dia | Bolt Dia |
| --- | --- | --- | --- | --- | --- |
| 5-100 | ◯ | - | - | φ73 | φ15 |
| 5-112 | - | ◯ | ◯ | φ66.5 | φ15 |
| 5-114.3 | - | ◯ | ◯ | φ73 | φ15 |
| 5-120 | - | ◯ | - | φ72.5 | φ15 |
20 inch Super Low & Low & High Type Disk
Size
税込価格(税抜価格)
S-Concave Disk Inset
(リム深度/mm)
Low Disk Inset
(リム深度/mm)
High Disk Inset
(リム深度/mm)
H-P.C.D.
20×8.0J
¥99,000(¥90,000)
28(59)〜6(81)
45(51)〜15(81)
27(51)〜−3(81)
5-112
5-114.3
5-120
20×8.5J
¥101,200(¥92,000)
35(58)〜−1(94)
52(50)〜8(94)
34(50)〜−10(94)
20×9.0J
¥103,400(¥94,000)
41(58)〜−7(106)
55(53)〜2(106)
40(50)〜−16(106)
20×9.5J
¥105,600(¥96,000)
48(58)〜−13(119)
55(60)〜−4(112)
45(52)〜−22(112)
20×10.0J
¥107,800(¥98,000)
54(58)〜−20(132)
55(66)〜−11(132)
45(58)〜−29(132)
※Low / High Disk:リムの深さ51mm未満はリムからディスクが突出します。
※S-Concave Disk:リムからのディスク突出はなし。
20 inch Disk Type Data
| H-P.C.D. | S-CV | Lo | Hi | Hub Dia | Bolt Dia |
| --- | --- | --- | --- | --- | --- |
| 5-112 | - | ◯ | ◯ | φ66.5 | φ15 |
| 5-112 | - | ◯ | ◯ | φ73 | φ15 |
| 5-114.3 | - | ◯ | ◯ | φ72.5 | φ15 |
19/20 inch Disk Color Variation
COLOR
税込価格(税抜価格)
SILVER POLISH
-
SMOKE CLEAR
¥2,200up(¥2,000up)
GOLD CLEAR
19/20 inch Piercing bolt Color Variation
| COLOR | 税込価格(税抜価格) |
| --- | --- |
| CHROME | - |
| CLASSICAL | ¥1,100up(¥1,000up) |
| GOLD | ¥3,300up(¥3,000up) |
19/20 inch Rim Color Variation
| COLOR | 税込価格(税抜価格) |
| --- | --- |
| バフアナダイズド | - |
ACCESSORIES
| Parts | Model number | 税込価格(税抜価格) |
| --- | --- | --- |
| センターキャップ(シルバークロスヘアライン) | RC-03SL | ¥2,200(¥2,000) |
| L型バルブ(六角・クリムソンオーナメント) | CV-01 | ¥1,980(¥1,800) |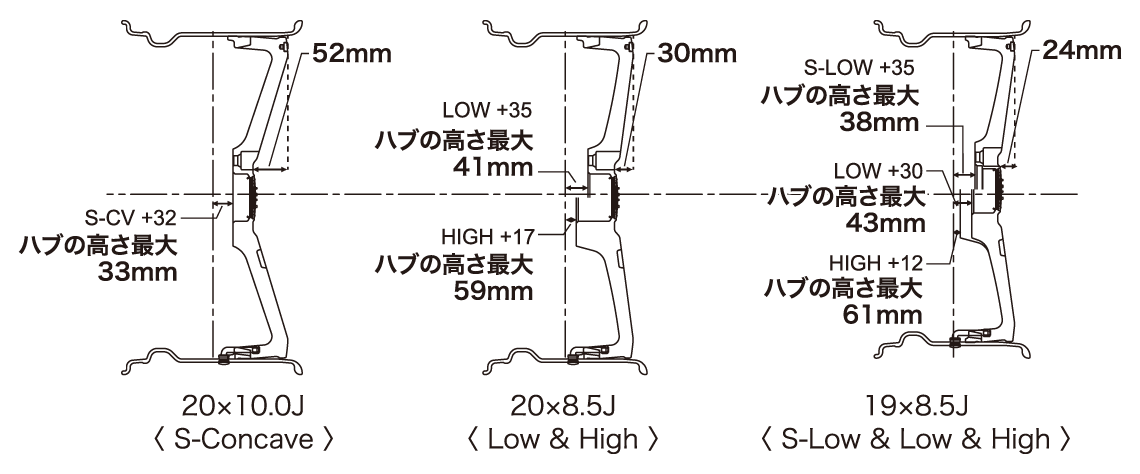 CENTER CAP / CENTER EMBLEM
センターキャップ(シルバークロスヘアライン)

RC-03SL

¥2,200(¥2,000)

センターキャップ(ブラッククロスヘアライン)

RC-03BK

¥2,200(¥2,000)

センターキャップ(レッドクロスヘアライン)

RC-03RD

¥2,200(¥2,000)
VALVE
L型バルブ(六角・クリムソンオーナメント)

CV-01

¥1,980(¥1,800)
HUB LING
ハブリングφ73×φ57(VW、AUDI)

CHR-04

¥880(¥800)

ハブリングΦ66.5×57(VW、AUDI)

CHR-06

¥880(¥800)
NUT / BOLT
17HEX M12×1.5-28mm(5個入)

CBO-01

¥3,850(¥3,500)

17HEX M14×1.5-28mm(5個入)

CBO-11

¥3,850(¥3,500)

17HEX M14×1.5-35mm(5個入)

CBO-12

¥3,850(¥3,500)
MAKER
MODEL
SIZE
TIRE
WHEEL
TOYOTA
PRIUS (ZVW50)
PRIUS (ZVW30)
WISH(ZGE20)
19
215/35R19
215/35R19
1975 +48 SLO
1975 +48 SLO
ALPHARD
&
VELLFIRE
(AGH30W)
19
245/40R19
245/40R19
20
245/35R19
245/35R19
ESTIMA HYBRID
(AHR20W)
&
CH-R HYBRID G
(ZYX10)
19
225/45R19
225/45R19
20
245/35R20
245/35R20
CROWN(3.5L)
(GWS224)
19
245/35R19
245/35R19
1985 +38 HI ★
1985 +38 LO
20
245/30R20
245/30R20
2085 +34 HI ★
2085 +34 SCV ★
CROWN(3.5L)
(GRS214)
19
245/35R19
275/30R19
1985 +38 HI
1995 +50 LO
20
245/30R20
255/30R20
2085 +34 HI ★
2095 +48 SCV
CROWN
(ハイブリッドアスリート)
(AWS210)
19
235/40R19
265/35R19
1985 +40 LO
1995 +53 LO
20
235/35R20
255/30R20
2085 +43 LO
2095 +48 SCV ★
PHO
TO